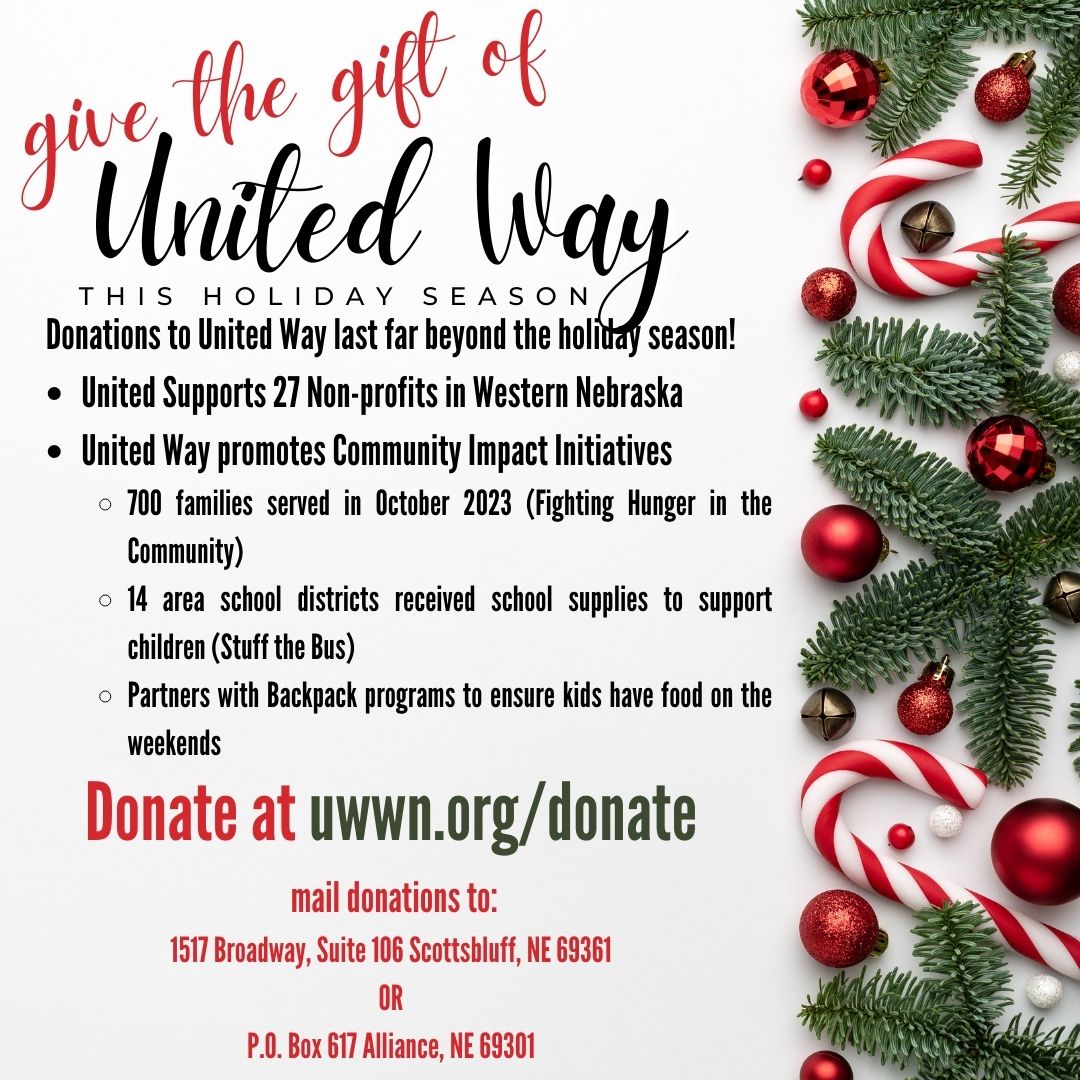 Scottsbluff– Gifts to United Way of Western Nebraska (UWWN) impact the community far beyond the holiday season. When you give to United Way, your gift becomes part of a collective effort toward more holistic and sustainable outcomes affecting the entire community.
With just one gift, you can help ensure families, individuals and youth have access to food, provide mental health counseling for children that have been abused, remove barriers to employment and sustainability for working families.
Your gift to United Way supports all the nonprofit partners in the community and stays in the community you live to support local community members in the areas of health, education and financial stability. United Way is currently supporting 27 nonprofits in Western Nebraska, including CAPstone Child Advocacy Center, The DOVES Program, East Point Horspice, Lifespan Respite, Community Table and the Scottsbluff/Gering Soup Kitchen.
United Way funding for CAPstone Child Advocacy Center's mission is to reduce trauma and promote healing for child abuse victims and their families in a safe, child friendly environment where children can be heard and supports. UWWN funding to CAPstone Child Advocacy Center provides mental health counselling for children and their nonoffending caregivers. Lifespan Respite is a new United Way funded partner agency for 2022-23 providing activities for families caring for individuals with special needs.
Give the gift of United Way online at uwwn.org/donate or mail your donation to United Way 1517 Broadway Suite 106 Scottsbluff, NE 69361 or P.O. Box 617 Alliance, NE 69301. United Way works in the local community to Give, Advocate and Volunteer. To learn more about United Way, please call the United Way office at 308-763-8031 or visit uwwn.org.
United Way of Western Nebraska is a nonprofit organization that unites people and resources to build a stronger, healthier and more compassionate community. They support 27 local nonprofit agencies and provide community impact initiatives in the areas of education, health and financial stability. They have been reinvesting in Western Nebraska since their inception in 1945. For more information, visit www.uwwn.org.